news
inside We are proud to be the recipients of several awards received from The Legal 500 – a reputable London based international rating agency, which regularly evaluates the level of legal services provided in Slovakia and in the world. The Legal 500 has recently rated Skubla & Partneri as the Leading Firm in Commercial, corporate and M&A and the Leading Firm in the area of Dispute...

inside We consider the results of the 5th annual contest "Law firm of the year 2017" organised by the weekly magazine TREND in cooperation with EPRAVO.SK a significant success for our law firm. Skubla & Partneri was declared as recommended law firm for Competition, Development and Real Estates, M&A, Banking and Finance and Dispute resolution.

inside In cooperation with the Slovak Catholic Charity we are providing legal aid to victims of crimes endangering the life and health and affecting human dignity. They include persons, many of them children, who as victims of crimes have suffered moral harm as well as property damage and normally their human dignity has been seriously affected. Our company represents these victims of crimes and helps th...

Škubla & partneri
Law firm
The Law firm Škubla & Partneri is one of the largest law firms in Slovakia.
We consider close relations with our clients and detailed knowledge of their businesses as a crucial precondition for finding direct and practical solutions.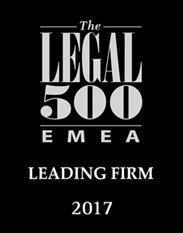 Škubla & Partneri s.r.o.
Digital Park II, Einsteinova 25
85101 Bratislava

tel.: +421 (2) 577 88 800, 810
fax: +421 (2) 577 88 055
e-mail: office@skubla.sk